Arthritis & Rheumatism
Professional Footballer Helps Wimbledon Woman Walk The Distance From London To Cambridge
Voltarol teams up with Sport Relief to help get Britain active and change lives
To inspire people across Britain to get and stay active year-round, Voltarol has teamed up with Sport Relief and professional footballer, Chris Beardsley, to transform the lifestyle of a Wimbledon resident.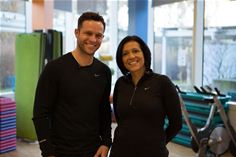 Voltarol Sports Relief Challenge: Chris Beardsley and Sonia Gooden
Voltarol introduced Chris, a UEFA A Licenced Football Coach and Strength and Conditioning Coach at championship team Burton Albion to Sonia Gooden, a Primary Care Worker and Mother of four. Sonia had previously not been undertaking any exercise and lived a very sedentary lifestyle. Chris' expert advice and fitness plan helped inspire Sonia to complete a Sport Relief Step Challenge, taking 140,000 steps in just 4 weeks (5,000 steps a day), the equivalent distance of London to Cambridge!*
According to Arthritis Research UK, 75% of the UK say they wished they exercised more than once a week, but just 53% of people do[i]. Via the partnership with Sport Relief, which has seen Voltarol pledge to donate £100,000, the brand aims to motivate and inspire the nation to get off the sofa, get active and undertake their very own challenge for Sport Relief.
Chris' advice for anyone that is thinking about moving about more and planning their own challenge for Sport Relief is "it's important to go slow; trying to run for miles if you haven't done regular exercise in years is not setting yourself up for success. Don't compare yourself to other people but do set yourself a reasonable goal that is reflective of your ability."
Chris also explains his tips and advice for anyone planning on getting fitter and undertaking their own fundraising challenge for Sport Relief:
'Aim for something attainable – don't plan on running a marathon if you haven't run in years!'
'Set small goals along the way – recording key milestones will keep you motivated and help you keep track of your progress'
'Have a long term aim in mind – think about what you'd ideally like to achieve and consider how you're going to get there'
'Try setting a goal with friends – having the support of others can be key to staying motivated and you'll have lots of fun along the way!'
'Make a plan – a schedule will keep you on track, otherwise you might find it hard to remember what you should be doing and what your next steps are. Keeping a record along the way will remind you of everything you've achieved'
'Don't obsess, enjoy the journey! – Ultimately, you should be having fun, getting fit shouldn't be a chore and there are lots of ways to make exercise enjoyable'
To find out how you can make your activity/ fitness goals a reality and to watch Sonia talk about her Sport Relief Step Challenge journey watch the video here: https://www.youtube.com/watch?v=dtBNBVeGwto
* 140,000 steps are roughly the equivalent of 70 miles – London to Cambridge is 64 miles in distance
[i] Arthritis Research UK Survey, March 2017 http://www.arthritisresearchuk.org/news/press-releases/2017/march/too-many-brits-are-putting-off-exercise.aspx
ENDS
Notes to Editors:
For enquiries please contact:
Amanda Dudley via [email protected] / 07580979333
About Voltarol
The Voltarol portfolio, from GlaxoSmithKline Consumer Healthcare, includes topical formulations to relieve pain and inflammation so that consumers can enjoy the Joy of Movement. To learn more about body pain and how to relieve body pain effectively, go to www.voltarol.co.uk
Always read the label.
About GSK Consumer Healthcare
GSK Consumer Healthcare is one of the world's largest consumer healthcare companies, responsible for some of the world's best loved healthcare brands including Sensodyne, Panadol, Otrivine and Voltarol.