Health
Daily Covid tally above 400 for fourth day, active cases double in a month, Health News, ET HealthWorld
NEW
DELHI
: The capital recorded 407 new
Covid-19
cases on Sunday, the fourth day in a row with more than 400 fresh cases in Delhi. Also, two Covid-19 deaths were reported in the last 24 hours. With a total of 68,223 tests carried out, the positivity rate was 0.6%.
With 350 patients recuperating from the disease in the last 24 hours while the number of new cases was 407, the number of active cases saw a spike with the figure reaching 2,262. A month ago, on February 14, there were 1,031 active cases in Delhi and the number has doubled in the last four weeks. The increase has been of almost 120%.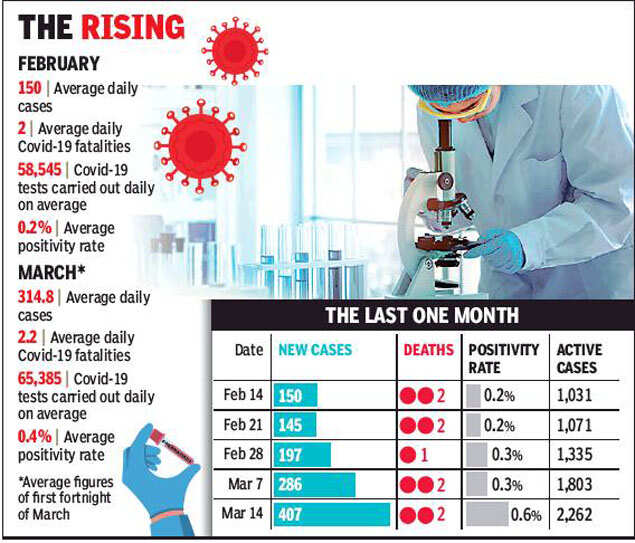 Out of the total 68,223 tests carried out in the last 24 hours, 41,194 were RT-PCR tests and 27,028 rapid antigen tests. More than nine lakh Covid-19 tests have been carried out in March till date, with an average of more than 65,385 tests a day, with an overall positivity rate of more than 0.4% till now. Last month saw 58,545 Covid-19 tests carried out daily on an average, with a positivity rate of 0.2%.
The overall infection tally in the city stood at 6,43,696 on Sunday, of which 6,30,493 patients have recuperated, which is a recovery rate of 97.9%. The recovery rate in Delhi has been more than 98% for quite some time now and the slight dip indicates the slow rise in cases over the last one month. The total death tally on Sunday reached 10,941 and the average daily death count in March has been 2.2 till now, compared with the overall average daily death count of 2 recorded last month.
While it seemed in mid-February that the number of active cases might go below the 1,000-mark, new cases slowly started going up, but the number of those recuperating was lower, resulting in the number of active cases witnessing a significant jump every week since February 14.
Though the number of Covid-19 patients admitted in hospitals has seen only a marginal increase, the number of those in home isolation has gone up significantly. This, however, shows that in most of the new cases being detected, patients don't have conditions serious enough to be hospitalised.
The number of Covid-19 patients admitted in hospitals was 582, with 5,129 hospital beds dedicated for Covid-19 patients being available. The number of patients admitted in dedicated Covid care centres was three, with 5,519 beds lying vacant and all the 97 beds in dedicated Covid health centre are vacant at the moment. The number of patients admitted in hospitals a month ago was 452 and 35 were admitted at Covid care centres.
As most of the patients are recuperating in home isolation, the number of such patients is 1,270.
Last Sunday, state health minister Satyendar Jain had said that there is no need to panic as the positivity rate is still below 1% but Delhiites need to remain alert, wear face masks and maintain social distancing. He had said that the Delhi government is completely prepared and there is less than 10% occupancy in hospital beds.