Oncology & Cancer
34% are to discuss medication and diet while only 4.8% involve exercise
These statistics have been taken from the European E-patient Report 2015 – an exhaustive study into the impact an illness has on an individual's day-to-day activities and social life.
Surprisingly, while exercise is considered to be a key component of diabetes management (along with medication and diet), it doesn't feature very highly in online conversations – which highlights the need to raise awareness in this particular area.
London (United Kingdom) | Madrid (Spain), 7th April 2016 – The theme for this year's World Health Day (chosen by the World Health Organisation) is diabetes. In order to show their support, People Who live with an illness (www.peoplewho.co.uk) – the leading digital platform for e-patients in Europe – will today publish results pertaining to diabetes from the first edition of the European E-patient Report 2015.
The European E-patient Report is an in-depth analysis of anonymous comments and interactions from the users registered on our European platform. The purpose of the report is to provide detailed information on the impact an illness has on an individual's day-to-day activities and social life, providing invaluable insight that is often overlooked in the clinical environment.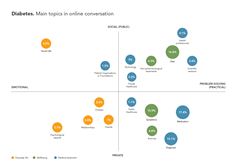 Social tags chart
According to 2015 statistics provided by the International Diabetes Federation, over 415 million people have diabetes and around 318 million have coeliac disease (putting them at greater risk of developing diabetes). And predictions for the future are bleak, as it is estimated that by the year 2040, around 642 million people will be affected by diabetes[1].
Life outside the doctor's surgery – the social impact.
Prevention campaigns aimed at raising awareness on how to protect against diabetes often focus on the importance of healthy eating, regular exercise, scientific & medical innovations and the support provided by GPs and other specialists. There is however, an additional aspect that has, as yet, been largely overlooked – namely the effect the illness has on the patient's day-to-day activities and social life.
So, what exactly are people with diabetes here in Europe worrying about? By analysing the comments, interactions and interests of the users currently registered on our diabetes platform, we were able to learn more about their concerns, worries and approach to the illness. The European E-patient Report 2015 (to be published within the next few weeks) has given us invaluable insight into what living with the illness involves.
Results showed that 50.1% of the online conversations that took place on the diabetes platforms (in the five European countries in which we are operating), revolved around: medication (17.4%), nutrition and eating habits (16.8%) and symptoms (15.9%). And when it comes to this last category, results showed that many of the conversations regarding symptoms involved concerns about potential complications (such as glaucoma and diabetic foot), which are becoming more widely recognised as time goes on.
Interestingly, comments and queries relating to the diagnosis itself made up 15.1% of the interactions carried out on the platform.
One of the most surprising statistics was that only 4.8% of the interactions and interests had to do with exercise, which (according to most diabetes awareness campaigns) is considered to be one of the key components of diabetes management. The fact that the statistics for subjects like non-pharmacological treatments were similarly low (4.3%), shows that very few people with diabetes consider exploring alternative or complementary therapies.
"We've seen that an anonymous, safe and reliable environment – like the one we're offering – encourages open communication regarding matters as sensitive and personal as living with an illness," states Tomas Garcia, CEO and Managing Director of People Who Global. "The data provided in the European E-patient Report 2015 provides us with an insight into a patient's social life that would be almost impossible to obtain in any other context – something that is vitally important when it comes to empowering the patient so that they can take an active role in their treatment, feeling free to voice their concerns or opinions; in other words, helping them become an e-patient."
Lastly, we'd like to point out that only 3.5% of the conversations were related to social life and 3.3% to the psychological issues associated with diabetes. As previously demonstrated, diabetes is a global problem, but these statistics show that it has been "normalised" by society – something that could complicate matters when it comes to making people aware of what the illness actually involves.
For more information and images, visit our press room:
www.peoplewho.co.uk/about/media
—
Fact sheet, European e-patient Report 2015:
[1] Data by the IDF: http://www.diabetesatlas.org/component/attachments/?task=download&id=116
Countries: France, Germany, Italy, Spain and United Kingdom;
Study period: January – December 2015 (12 months);
Topics and studied groups: Platform users in the different countries where the platform is online (profiles, interests, motivations and positioning);
Type of research: Annual report;
Details:
Page views/month • October 2015: 316,200
Unique users/month • October 2015: 192,041
Registered users, December 2015: 31,323
—
For further information:
PR & Communications • People Who:
Charlayne Iwanczuk | Jaime Domingo
Email: [email protected]
Tel: 0207 193 7986
About People Who | People Who Global
People Who Global is the platform which develops our platforms in the different countries we operate in: France, Germany, the UK, Spain and Italy. Soon we'll also be online in the USA, Mexico, Argentina, Colombia, Peru and Chile.
An online platform with three services for the everyday lives of e-patients: a Community to meet other people in the same situation, a Control section to keep track of the illness and a Magazine to stay up-to-date with reliable information.
People Who is a registered trademark of People Who Global.
© People Who Global. www.peoplewhoglobal.com